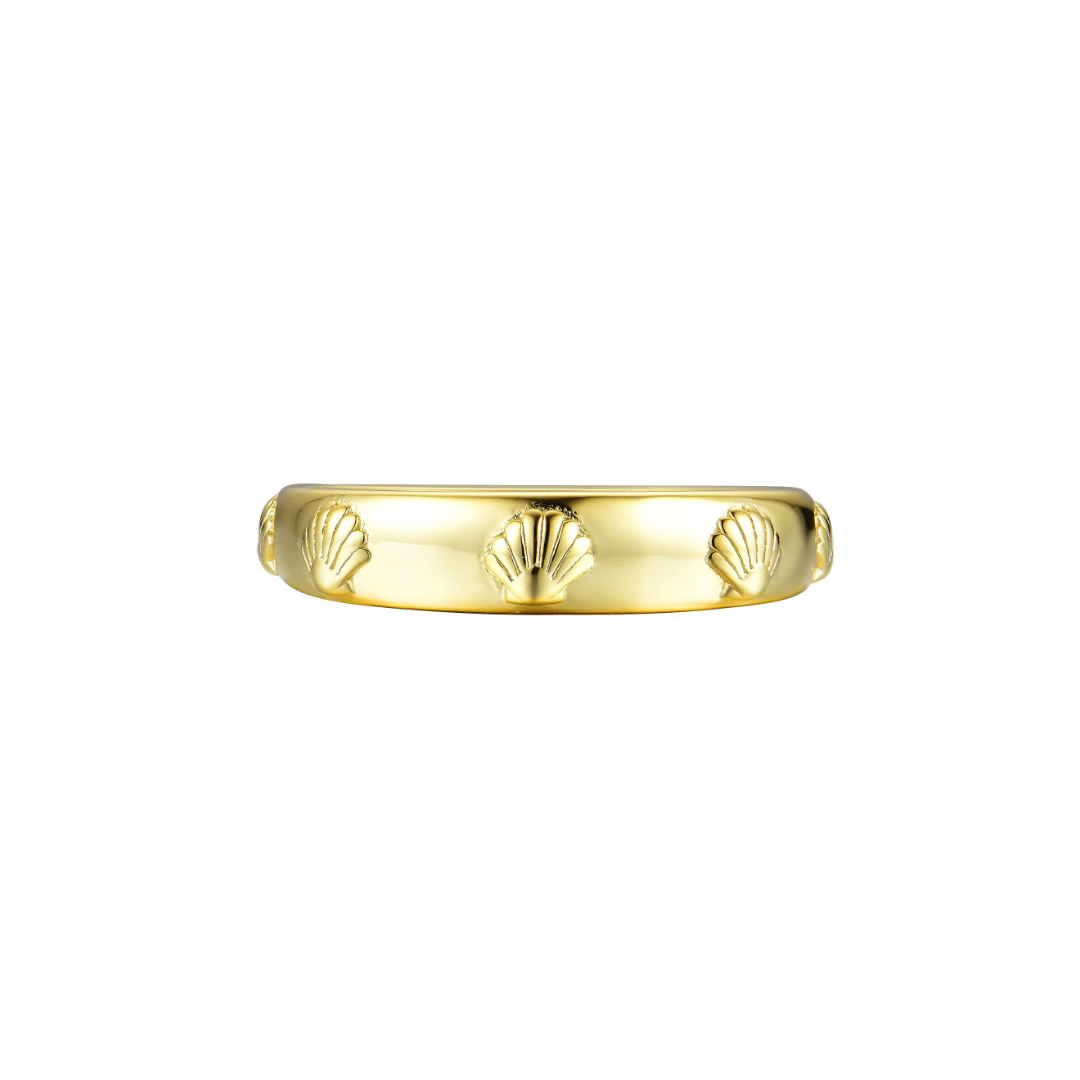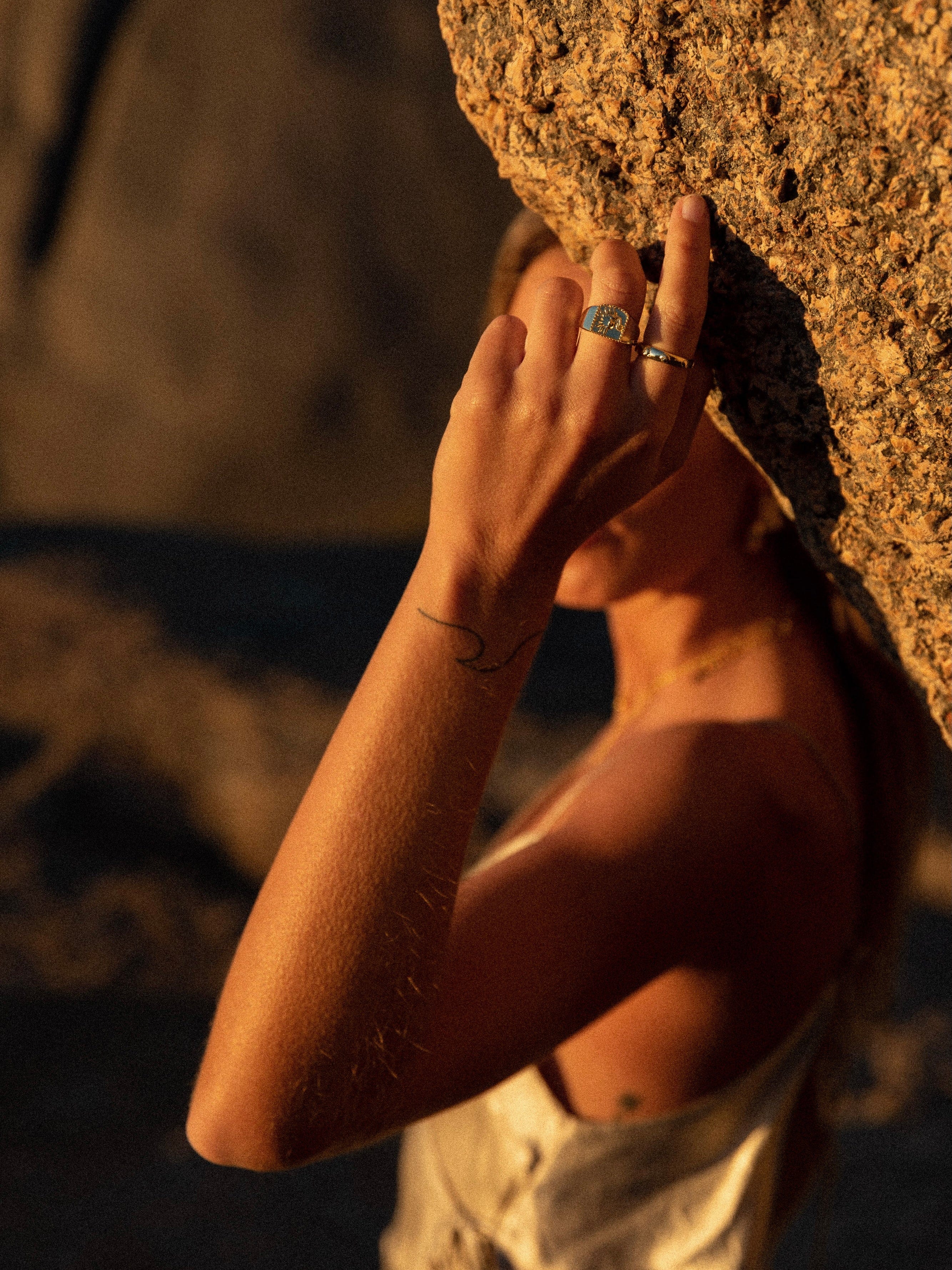 Item is in stock
Hurry, Only

0

Left!
Item is out of stock
Item is unavailable
$1 of your purchase goes to Charity with
This is a simple ring adorned with delicate shells along the outside and features the engraving "you are enough" on the interior.
Dimensions:
Front - 5mm
Back - 3mm
Size guide:
Please use a piece of string to find the circumference of your finger and then measure the string

5.5 (size K) finger circumference 5cm
6.5 (size N) finger circumference 5.25cm
7.5 (size P) finger circumference 5.62cm
8.5 (Size R) finger circumference 5.87cm
MATERIAL

Gold Plated - Solid 925 sterling silver with 14k gold plating

Silver - Solid 925 sterling silver

Rose Gold - Solid 925 sterling silver with rose gold plating

Mixed - Left is gold plated and right is silver (applied to paired necklaces - no other variations)

Solid Gold - Solid 9k Gold
PACKAGING

All orders will be packed in one Lion Wild pouch and box to save on waste. 

If you are gifting seperate items, please let us know in the notes section of your order and we can provide additional packaging.
DELIVERY

We offer Free Express Shipping Australia-wide on all orders.

To find your estimated delivery time, visit the Australia Post website and add Dromana as the "From" suburb and your suburb for the "To" address. You will find your estimates delivery time under Express Post.

Note: Please allow an additional 4 business days for delivery during the Christmas period.
CARE

Please ensure that you read our care instructions before purchasing.

OCEAN

Wearing jewellery in the ocean is absolutely fine but it is important to know that salt water and the ocean are corrosive and can be a harsh environment for your Lion Wild jewellery. So, although your jewellery will not tarnish or turn your skin green, the gold plating can fade a lot faster in this environment and become lighter and revealing the silver underneath. Don't worry though! Not for a long time.

SHOWER

Although your pieces are water safe, the products you use in the shower are harsh on your plated jewellery. We do not recommend wearing your items in the shower because products such as shampoos, body wash, soap, moisturiser etc will wear your plating down quickly.

POOL

Swimming with Lion Wild jewellery is not recommended as you will be coming into contact with water that has chemicals like chlorine that will interact with you jewellery more dramatically than fresh water and soap. 

HAND WASHING

Please make sure to remove your gold plated rings before washing your hands as the chemicals in your hand soap will drastically fade the gold colour.
RETURNS

We offer a 30 day return policy on full priced items only. We do not offer refunds. 

Please note: we are unable to offer returns or exchanges on sale items, or earrings for hygiene reasons. 

Returns will only be accepted if the items are in their original packaging, and have not been opened or worn. 

Proof of purchase or order number may be required. Returns will only be considered if your jewellery is purchased from www.lionwild.com.au. We do not offer returns for items purchased from our stockists.

Return shipping costs, customs charges, govt taxes and duties for international orders are also not covered.

If you wish to return your item for another item, please get in touch via our contact page.
Disappointed
The quality of this ring is so bad, I've only had it for 2 weeks and it's completely silver with small patches of gold left honestly looks so cheap. I don't shower, swim or even wash my hands with it in so water and products aren't to blame. For the price of this piece the quality is not justified m, so bad do not buy
Gold disappears - Oasis Ring
I thought this ring was really beautiful but to my disappointment about 2 weeks after having it the gold started to fade. I'm pretty cautious when it comes to Jewellery and only after running in under tap water and taking it off when using products I quickly found it couldn't uphold the everyday wear of my other rings.
Although it is a nice ring, the fit is abit snug for what my ring size is compared to other rings I have and it hasn't really been worth the buy for the quality.
If I could give less than 1 star I would
Love the design, but after having this ring for less than 3 months I had already noticed it was chipping and fading into silver. I have multiple Lion Wild pieces so I know to avoid water/perfume/creams etc. so I was very disappointed to see how poor quality it was looking already. Every other piece I have has also faded, and just looks very cheap. Such a shame because I would love to support an Aussie company but I would NEVER recommend buying from Lion Wild to anyone now.